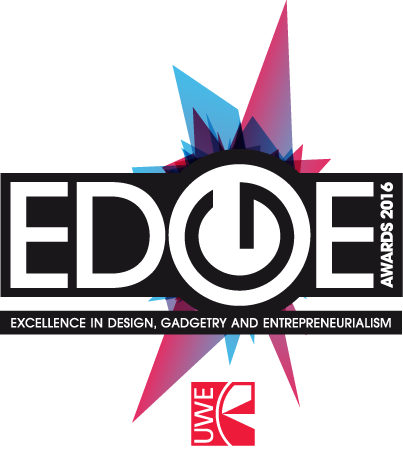 Entries for the 2016 Edge Awards have now closed.
what are the EDGE awards?
The EDGE Awards provides a stage to celebrate, recognise and reveal our region's finest in design, gadgetry and entrepreneurialism in Bristol, Bath & Gloucestershire.
From garden-shed starts up to globally established businesses, EDGE will provide an unique opportunity to make a mark in their business sector.
The awards will showcase businesses and individuals across all creative disciplines, from branding to innovation, products to interactivity with a commitment to recognising and rewarding the very best in design, gadgetry and technology.
The EDGE Awards brings together the best of the South West, where finalists will be given the opportunity to showcase their products and receive the recognition they deserve.
Wednesday 24 February 2016
6pm – 11pm
Paintworks Event Space, Paintworks, Bath Road, Bristol BS4 3EH
Dress code: Smart casual
tickets
The Edge Awards event is invitation only.
If you have any queries or would like to enquire about the availability of invitations please email Shirley Butt on sbutt@localworld.co.uk
Finalists
Best Marketing Campaign of the Year
3radical – Marketing Week Live (Rapport Digital)
Unite Students – property rentals 2016/17 (Dirty Design)
Escape to Jersey (Digital Visitor)
Creative Agency of the Year
375
Rapport Digital
Better Reach
App of the Year  sponsored by Downing VC LLP
Wriggle
Laundrapp
Mubaloo
Get u better
Environmental Technology Award sponsored by Foot Anstey
Bristol Blue Green
Neighbourly Food
Go Green Bristol
Emerging Technology Award sponsored by EIP Europe LLP
Ultrahaptics
Open Bionics
Opposable
Young Innovator of the Year sponsored by Renishaw
Tom Carter (Ultrahaptics)
Tom Dewhurst (Ordable)
Samantha Payne (Open Bionics)
Robert Hall (Wriggle)
Best Product of the Year
Squash Stix
Simpalarm
Waterless
Innovator of the Year
Stephen Fitzpatrick (OVO)
Tom Carter (Ultrahaptics)
Ian Herbert (Vistair)
Outstanding New Business Idea sponsored by Deloitte
Helpfulpeeps
Bibshot
Barton Willmore
Yellow Dog